Our unit's philosophy is to constantly strive to improve its impression.  As new information comes available, adjustments are made to our Uniform and Equipment Regulations.  As marines, we not only train with light infantry tactics but light artillery as well.  Our unit has a 10 pdr Tredgar Parrot Rifle that is used in live shoot competitions as well as reenactments.  Although we impersonate a Confederate unit, we also galvanize when needed to present a more accurate impersonation of those men who fought during the War for Southern Independence.   We realize that the marine impression is inappropriate for many events so we have adopted Co. K, 30th MS Infantry and Co. A, 13th US Infantry as our CS / US infantry impersonations. 
    We are a family oriented group with many of our wives and children involved in this hobby.  If our unit sounds right for you, please feel free to contact us for more information.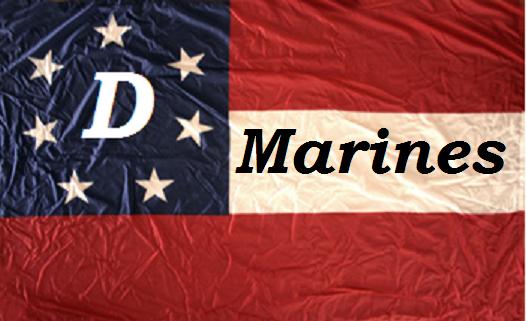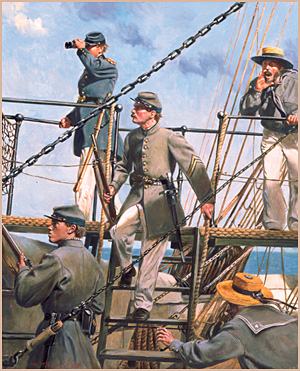 Company D,

"Mississippi River Detachment"

Confederate States Marine Corps

Captain Alan Palmer, Commandingxt.

Company Staff Contacts:

Capt. Alan Palmer, Commanding

1st Lt. Larry McCluney, Company Adjutant

August

• Jeff Davis Guard Battalion Meeting - 8/3 at 

  10:00 AM - Eddie Burke's Place

September

•National Event at Chickamauga - September 

  19-22, 2013 (Confederate Impression)

October

•10/10-13 - Battle of Farmington, MS

(Federal Impression)

•10/17-19 - Fall Muster at Beauvior

(CS Marine Impression summer attire)

November

• Wirt Adams' Raid, Natchez, MS

(Federal Impression)

Company News / Orders - 2013



Looking For a Few Good Men!!

Needed, adventurous men who are willing to fill the ranks as infantry and artillery when needed.  If your not afraid of sleeping under the stars, the smell of gunpowder, mosquitos or chiggers, then this unit maybe what your looking for.